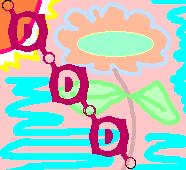 Issue #4, September 1998
The Payo

Dear Anonymous Woman,

THAT IS A PROBLEM INDEED. I KNOW THAT BEING ABLE TO SEE A HAIR'do AS NICE THAT WOULD REALLY HYPNOTIZE YOU TO CRAVE FOR MORE!
Well, THE FACT STANDS ALONE THAT YOU LIKE THIS GUY. THUS, THE ONLY SOLUTION IS FOR YOU "NOT" TO LIKE HIM! (PRETTY SMART IDEA HUH?) Thus, THE ONLY WAY WE COULD TO THIS IS BY CUTTING YOUR HAIR INTO SOMETHING JUST LIKE HIM!
YOU KNOW WHY??? THAT IS BECAUSE IF YOU 'D SEE YOUR HAIR IN THE MIRROR, YOU'D NO LONGER BE IN LOVE WITH THE 'GUY WHICH YOU SAW, BUT TO THE 'GAL THAT YOU ARE LOOKING AT…

HEY.. IF YOU HAVE PROBLEMS OF YOUR OWN… PLEASE DO NOT HESITATE TO ASK FOR THE HELP OF Lt. Leaf Jimenez.
SEND THEM TO:
Leaf@RadioLink.net
I REPEAT… SIGN THE DOG-DAMMED GUESTBOOK!!!!!!!!!!
HMMM… MAMAYA NA 'YUNG KUMAG NA SCRAPBOOK!
Hmmm… pinag-aaralan ko pa kung paano ginawa nung mga tiga-nu107 'yung sa kanila eh!