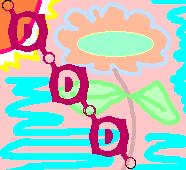 Issue #4, September 1998

Back To Main

Dear Dr. Dogan

first class advises

for first class problems.

Uhuhuy! Grabe… alam niyo ba??? Nung nagtitingin ako ng mga HP kahapon… I saw this site… and you know what? IT LOOKS EXACTLY THE SAME AS MINE!!!

Dang! Could it just be a coincidence? Well, siguro nga… ??? Hmmm… patay.. hula ko magagalit na sa 'kin 'yon… teehihihi… peace tayo ha! Malamang nagkataon lang talaga na pareho ang taste namin….

ONE THING'S FOR SURE…

hindi ko siya ginaya… at wala akong gagayahin na kahit na sinong watchamacallit' sa buong buhay ko!

"

And that's the bottomline.. 'cause DOGAN said so!"

teehihihi…

By the way, I call this DDD edition…

"The Hair Which Moved My Heart"
now then, it's time to read the letter!!!
AWWW… HOW TOUCHING…
(t.y. to Car's HP)