Issue #2, May 1998
The Letter
This letter was sent by a mysterious (?) avid girl reader of DDD who would prefer to be known by the name of Inlove.

Dear Dr. Dogan Tao,
hi! as i was surfing the net i found your column and i thought it will
sound cool if i write to you cuz' i also have a problem anyway.
It all started when i was in this exclusive school for girls. It's cool in
this school because you got to do all that you want to do without thinking
what others would say cuz' they are no guys around, but there are guy
teachers (duh?) well anyway i have a classmate or either a seatmate or a
friend. She's so good to me and she's really talented but not cute or
something. And so this is my problem… i'm falling for her ! yeah i do! i
don't know why! now i don't know what to do now cuz' she's my friend and
y'know what friends stuff do.. like she'll call me, give me letters and
stuff. She basically don't know about this and i don't want her to know
about this too. No one know about this even my friends. I'm not really a
tomboy and i'm not in to relationships. So what can i do now? HELP ME!!!!!
love,
inlove

Go To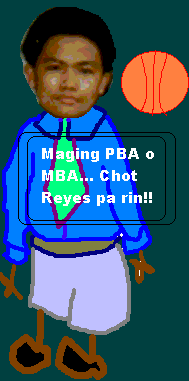 Grabe… Ewan ko lang kung bakit siningit ko 'tong picture na 'to… ang gwapo kasi ni 'loko! Teehihihi…